Inside the Pen


Thu, 16 Jun 2022 (by RotoGuru)

Early in the season, a number of DBD users approached me to ask about alternative sites that might provide similar data. Some even suggested that they might try to design a new site to attempt to replicate some info that seemed to be hard to find. My standard response was that if anyone developed a new page or site that seemed to be of sufficient quality and usefulness, I'd post links here.

Today I'm happy to refer you to a new site for bullpen analysis: InsideThePen.com.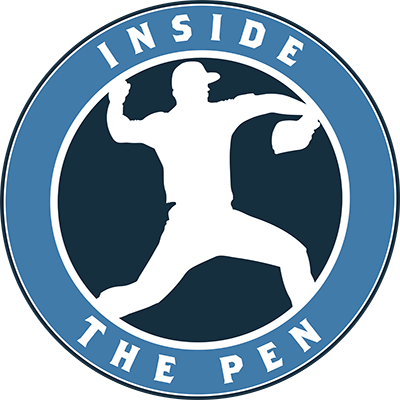 Looking for a new resource for MLB Bullpen data and usage tracking? InsideThePen.com features easy to understand statistical analysis of all active bullpen pitchers, team summaries, and matchup breakdowns. The site is updated daily to help you stay on top of all the latest trends and developments for all 30 teams.
---
---
So long, farewell, auf wiedersehen, goodnight...


Wed, 03 Nov 2021 (by RotoGuru)

...and the the end of the 2021 world Series, DailyBaseballData.com is drifting into the sunset.

As announced last spring, I am retiring from this gig at the end of 2021, so the 2021 baseball season is the last one for MLB stats and data production. DailyBaseballData.com (DBD) was launched in April, 2011 to fill a perceived statistical support need for the burgeoning daily fantasy sports industry. As many other fantasy sports analytical sites have been developed since that time, DBD has essentially morphed into a niche site focused on reproduction and presentation of data in formats that primarily support the raw data needs of those who prefer to do their own analysis.

After eleven MLB seasons (and 24 years of fantasy sports website production, going back to the creation of RotoGuru.com), it's time to retire. This has been a labor of love, but with my wife now retired as well, we want to travel more. And while I've developed a decent capability to keep site operations flowing while travelng, it is a strain and a limitation. And frankly, a lot of the site's infrastructure is sorely outdated. I am neither interested nor adequately skilled to manage this site into another decade.

I do expect to leave the sites open for the forseeable future (both DBD and Rotoguru), so data from past seasons (through 2021) will continue to be accessible, at least for awhile. If there is something out there that you want to retain for posterity, it wouldn't be a bad idea for you to access it now and archive it yourself. But when the 2022 MLB season starts to ramp up, you're on your own.

Thanks for the memories! - Dave Hall
---
---
Did you just lose access to ADI and VMI data?


Thu, 26 Aug 2021 (by RotoGuru)

If you recently lost access to ADI and VMI values on the Weather Dashboard, then most likely your annual subscription at baseballVMI.com has expired. You need to go to that site and renew. For this data, a subscription at DailyBaseballData.com is not necessary, but you must have an active subscription at baseballVMI.com.
---
---
Premium data subscriptions required as of May 27


Thu, 13 May 2021 (by RotoGuru)

The free lunch is about to end. If you access the text-file versions of any of the various MLB reports offered at this site, the free trial period will end shortly and a $39 paid subscription will be required as of May 27. The text data reports are essentially for those who want a convenient way to import the data in to other applications. For more details on what data is covered by a subscription, and to susbscribe, see http://rotoguru1.com/cgi-bin/getcred21.pl

As usual, all HTML reports will continue to be free - with one exception. If you wish to receive the current day's ADI and VMI values on the weather dashboard, you must have a paid subscription at baseballvmi.com as of May 27. (Note: A paid subscription at DailyBaseballData.com is not required to access ADI & VMI data. Just at baseballvmi.com)
---
---
Data now Captures Multi-position Eligibility for Fanduel


Thu, 15 Apr 2021 (by RotoGuru)

As a consequence of an update to the daily salary feed that I get from Fanduel, I'm now able to easily capture multi-position eligibility. Until yesterday, my data only showed the "primary" position for each listed player. Now, a player who is eligible at more than one position will show all positions. For example, Cory Bellinger is eligible at 1B and OF, so his position will be listed as 37 (i.e., 3 and 7) in any report that shows Fanduel position eligibility.

This is the same format used for multi-position players in Draftkings, so it should not create any significant discontinuities.

Please let me know by email if you notice any position data that now seems to be displayed improperly.
---
---
Master file is up


Thu, 01 Apr 2021 (by RotoGuru)

The 2021 Master file is up. Here's the link:
http://rotoguru1.com/cgi-bin/mlb-dbd-2021.pl

As in past years, this file will be free for the first month of the season. After that, a paid subscription will be required. Subscription info will be posted later in April.
---
---
Here's the windup...


Wed, 31 Mar 2021 (by RotoGuru)

Batter vs. Pitcher reports are now provided for regular season games.

Sortable stats reporting has also begun, with salary data provided for April 1 for FanDuel, DraftKings, and Yahoo. Note that salary data is generally for "All Day" slates. If an all day slate is not available, then salaries are provided for the most inclusive slates. Salaries for single game contests are not provided.

The Weather Dashboard is now up. As usual, ADI and VMI data will be free to all for an introductory period. Eventually, you will need to have an active subscription at baseballvmi.com to see the ADI and VMI data.

The 2021 master file is not yet available. I hope to have that activated by tomorrow. This file will be free for at least the first month of the season.

Other reports depend on having active stats. I hope to have those up on their normal schedules - either Thursday during games, or on Friday morning after stats are processed for April 1.
---
---
2021 MLB Schedule available in spreadsheet format


Tue, 17 Nov 2020 (by RotoGuru)

Spreadsheet link: dailybaseballdata.com/dbd/MLB_schedule_2021.xls
Data source: MLB.com
---
---
Schedule anomaly


Wed, 16 Sep 2020 (by RotoGuru)

Today's SF @ Sea game was postponed, due to poor air quality in Seattle. It has been replaced by a game in SF instead. However, since Seattle is still the listed home team, my schedule feed thinks the same game is postponed and being played - which is technically correct, since both games are listed as SF @ Sea.

I have updated the weather dashboard to show the game in SF. Some reporting will probably show the game as postponed, at least until it starts being played. So disregard the postponement indicator.

Just another "charm" of the 2020 season!
---
---
Any Laura Losses Lingering?


Thu, 27 Aug 2020 (by RotoGuru)

Hurricane Laura knocked my server offline for awhile last night. (It's in the Dallas area.) I believe all functionality has now been restored. I've attempted to rerun all processes that failed overnight, and hope that I have remembered them all. If you see anything that appears to be missing or off-kilter, please let me know.

As of 9am ET Thursday morning, Yahoo has not posted any daily contests for MLB or NBA for today, so I'm guessing their operations were knocked for a loop last night as well.
---
---
Unmasking ADI & VMI values


Tue, 25 Aug 2020 (by RotoGuru)

Going forward, in order to see the current day values for ADI and VMI, you'll need to have an active membership at BaseballVMI.com.

If the values are not appearing on the Weather Dashboard, there is a validation link in the notes just above the table data.

If the values are not appearing in the master file, then append your email address to the URL, as illustrated here:
rotoguru1.com/cgi-bin/mlb-dbd-2020.pl?vmail=youraddress@yourdomain.com
---
---
Transporter Malfunction?


Mon, 17 Aug 2020 (by RotoGuru)

My systems are not configured to properly recognize the correct gametimes or venues for doubleheaders when the home and visiting teams switch. For example, today's Cardinals vs Cubs doubleheader officially lists the opener as St. Louis @ Chicago, and the nightcap as Chicago @ St. Louis. But both games are played at Wrigley field. And some of my systems think that both games are to start at the same time.

Maybe I'll eventually figure out a way to compensate. But for now, just be aware of the likely discrepancies in those situations.
---
---
Christmas in August


Sat, 15 Aug 2020 (by RotoGuru)

After some thought, I've decided not to charge anything for the "premium" data related to the 2020 MLB season. The season is so short, and there are many anomalies in schedules, postponements, and cancellations that - quite frankly - are giving some of my programs fits in interpreting. And of course, there is a non-negligible chance that the season will all come crashing down at some point. So, 2020 is on me.

There is one weather-related exception. Beginning on August 24, current day ADI and VMI values will only be displayed if you have a valid membership at BaseballVMI.com. This applies to the weather dashboard, and also to the 2020 master data file.

Premium data for prior seasons will continue to cost you, however. Subscription details for seasons from 2015-2019 are HERE.
---
---
Off the grid


Wed, 05 Aug 2020 (by RotoGuru)

My home and office neighborhood was hit hard by the tropical storm on Tuesday evening. I lost power, and also lost my internet connection. The local damage is severe enough that it's likely to take several days for power to be restored, and then I have no idea when internet service might be restored. So I'm relying on my cell phone for data connection at the moment. There is so much demand for cell data right now, that most of the day I'm unable to get anything through - not even email flows easily. I had to drive to a remote location just to find a cell signal ample to post this message.

So for the time being, my ability to do any troubleshooting is virtually nil. Fortunately, the server is in a remote location, and is unimpacted. But I'm not really able to connect with my server for the time being. Thanks for your patience.
---
---
Befuddling postponements


Wed, 29 Jul 2020 (by RotoGuru)

Some of my systems are a bit befuddled about some of today's postponements. In particular, the programs don't really know how to interpret schedules for the Orioles and Yankees - who each have a canceled game as well as a scheduled game against each other. I think it will all sort itself out, but you may see some unusual listings in some reporting formats. Deal with it.
---
---